.... to see a free preview or download a copy

of

'Tunnel Vision'
suitable for reading on i-pad, Kindle, pc, or any other electronic
reading device
........................................................................................ click here


Tunnel Vision
Three fools in caps stood back to back,
In case a dragon should attack.
The first, who was scared half to death,
Swore that he'd felt the dragon's breath.
The second said that he was sure,
That he could hear the dragon's roar.
They stood there, quaking, pressed
together,
Then the tallest one asked whether,
Either of the other loons,
Could smell the dragon's fiery fumes.
They all agreed they could smell smoke,
And now the three dimwitted blokes,
Could feel a trembling in the ground,
Was this the dragon coming round?
Alas for these soft headed men,
This cave was not a dragon's den,
For they were stood on private land,
A place where only mugs would stand,
The three buffoons, stood back to back,
Halfway across a railway track.
That roaring noise was not a dragon,
But the sound of twenty wagons,
Following a coal powered train.
They won't be doing that again.
(January 2012)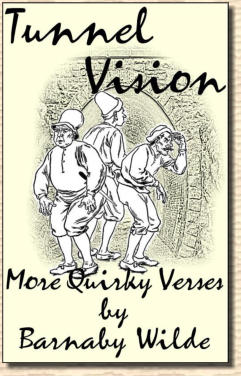 Review by: steve sutherland

on March 04, 2012 : (no rating)
Barnaby hits the sweet smiley spot again here! His ability to evoke and present the essence of character and situation within
a few short rythmic lines just makes you want more ...
Review by: Gary Weston

on Feb. 27, 2012 :
Only Barnaby could write about a whale that's flying, or wonky dining tables with things so very trying,
Or dancers having strange affairs, though I'm sure about that, nobody cares,
the main thing is it made me smile, and I'll read the rest, in a while.
From Reviews Posted on

www.smashwords.com

















Humorous fiction (Tom Fletcher)


Detective fiction (Mercedes Drew)